Home
Established 1998
Based in Saitama Japan, we have been translating all types of documents for more than 20 years including government certificates, business contracts, theses, personal letters, and so forth from/into English, Japanese, Russian, and Ukrainian for clients inside/outside Japan. The quality of our translation is recognized by many embassies in Japan. Please call/email us first for any questions.
Japanese translation for both individuals and corporations
Translation of contracts and certificates such as Koseki Tohon (Family Register documents) Including Translation Certificate.
Example of our Family Register translation (KOSEKI TOHON)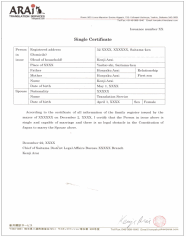 Example of our Single Certificate translation(Affidavit of Competency to Marry; KONIN YOKEN GUBI SHOMEISHO)
Japanese translation by professional Japanese translator for fees starting from 1,000 yen (approx. 9USD)
Available payment methods:
VISA, MasterCard, JCB, Diners Club, American Express
Banks (Mitsubishi UFJ, Mizuho)
Post office
Delivery methods:
Email attachments (MS-WORD, PDF, etc.)
Postal envelopes (Letterpack, EMS)
Cash on Delivery (Yamato Transport)